Dental Implants Costs, Results, and Process
Written by Dr Alex Fibishenko

To understand the costs you need to understand what's involved and what are the various options.
There are many steps and many costly components and costly technologies that need to be used in the planning and throughout the treatment, which makes it expensive. Also, the implants that we use are amongst the most expensive in the world because of the research and technology that has gone into them, but we don't charge a premium when we use them.
What is All On 4 Plus® Implants Treatment?
Unlike standard dental implants, which usually replace only one tooth with each implant, All On 4 Plus® is an effective treatment for replacing multiple missing teeth at once. They are a permanent alternative to removable dentures, and we typically consider this option for people who have lost several of their upper or lower teeth or whose oral condition is poor.
In the All On 4 Plus® procedure, the dentist implants four titanium posts into the jawbone. After the surgery, a set of custom-made bridges containing a full set of prosthetic teeth is fitted onto the implant posts.
All On 4 Plus® implants are ideal for people who want to replace all their missing teeth at once. The main procedure can be completed within a single dental appointment. They are also an excellent option for people who don't want removable dentures that can be uncomfortable, lose their grip, or slip out of place.
Once we fit the permanent bridge, your All On 4 Plus® implants function just like your natural teeth — the aim of this treatment is to allow you to eat, speak and smile just the same.
All-On-4 Plus® Costs
The question of cost varies depending on individual circumstances. One review site compared 839 doctors and clinics worldwide and found that the average cost for All On 4 was just over $30,000.
At All On 4 Plus we do these procedures almost daily so it can be done more efficiently, and as a general guide our typical fee is $25,000 per arch, either top or bottom, and this is for "All On 4 Plus" which includes the Immediate Final Teeth with a strong titanium frame.
There are some situations where the bone quality or volume is so poor that we need to do some additional procedures like nerve transposition, bone grafting, or special long implants anchored in the cheekbones known as Zygoma implants, which can all be done at the same time and in the one surgery but can add $3,000 to $9,000 to the cost.
These situations are not common and by far most treatments end up being around the $25,000 mark per arch, or $50,000 if doing top and bottom together.
The cost includes:
All the per-operative planning and procedures such as photos and digital impressions of your mouth
Digital smile design, where we do digital modelling of the planned position of the new teeth
the surgery itself, which is performed by experienced and specially trained implant surgeons
it includes a template of teeth that mimics the digital design, which can be tried in the mouth immediately after surgery on the same day to allow us to fine-tune the appearance of the smile and the bite. Often patients can go home with these teeth so that they are not without teeth;
the cost includes all the laboratory procedures and customisation; and,
Immediate Final Teeth, which is a hybrid of the finest acrylic teeth on a custom-milled titanium frame
The cost also includes:
The 3 week review and hygiene appointment;
The 4 months review and x-rays to check the healing of the implants; and,
All repairs and minor adjustments as required for 2 years
WHAT MAKES IT EXPENSIVE?
To understand the costs you need to understand what's involved and what are the various options.
There are many steps and many costly components and costly technologies that need to be used in the planning and throughout the treatment, which makes it expensive. Also, the implants that we use are amongst the most expensive in the world because of the research and technology that has gone into them, but we don't charge a premium when we use them.
Having facilities that can produce immediate final teeth with a milled titanium frame is a sophisticated and expensive set-up, but again we do not charge a premium for that.
Lastly, the kinds of surgeons, staff, and technicians who are involved in the whole process have to be experts in the area of implants and have undergone a great deal of education and training, which makes their time more costly, but also more valuable and efficient, …and the results more predictable.
The alternative older methods of a staged approach and temporary teeth is still used by many clinics, and typically involve simply gluing a pre-fabricated denture to the implant posts.
As you can imagine the fitting surfaces of these temporary teeth are often ROUGH trapping food making them difficult to keep clean, which can result in inflammation and excessive shrinkage of the gums. Temporary teeth are also FRAGILE and can crack or break during the healing process, which can put the healing implants under undue stress resulting in bone loss or failure.
More importantly, the patient experience is very different, they have to endure 3-4 months of wearing temporary teeth and then undergo another process to make the final teeth, as opposed to walking out with a great smile using All On 4 Plus and our unique Immediate Final Teeth system.
To give you an example, if we were to revert back to the old method and offered temporary teeth the cost per arch would be under $20,000.
You can see the breakdown of the total costs and compare the price and time frame of the All-On-4 Plus® FINAL dental implant with that of other providers in the table below.
Compare All On 4 Plus® with
other premium dental implant providers



with Immediate Final Teeth™

Other Providers 1
with provisional teeth

Upper or Lower All On 4 Plus®

$25,000

$18,000-$27,000

Add On: Zygoma and or Grafting


If required - 1 IN 10 Cases

$6,000-$9,000

$10,000-$15,000

Typical time frame to Final Bridge

1 - 2 days

3 - 6 Months

Immediate Titanium Frame

Not Available

Immediate High Aesthetics
Efficient & Convinient Treatment Process
Reliability
Cleanability
Durability
Additional Cost for Final Bridge

Included

$8,000-$10,000

Add On: Ceramic Teeth ON SPECIAL

$10,000

$12,000-$20,000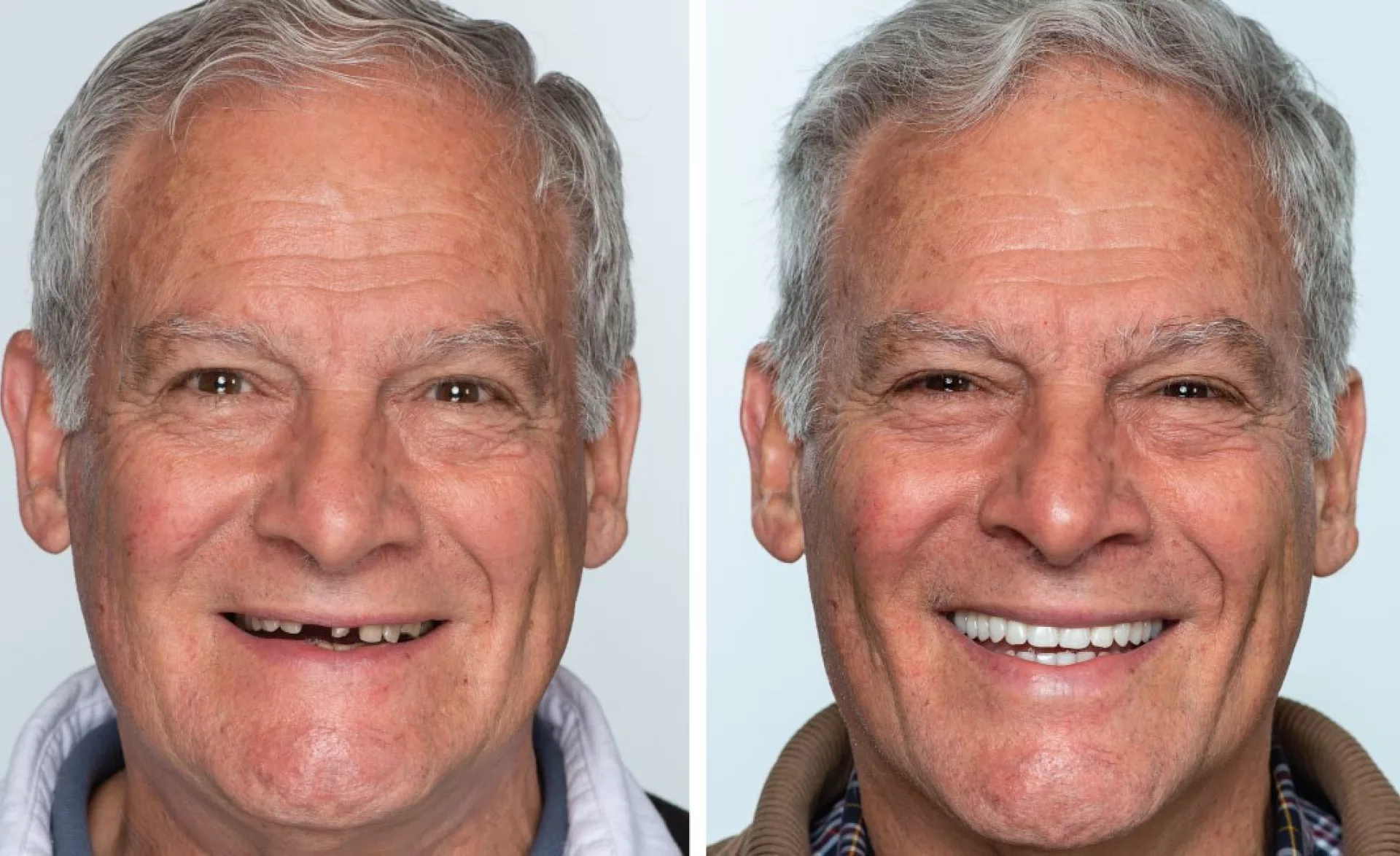 Is it worth it?
The question of whether it's worth it is an individual one and depends on the issues and limitations you are experiencing with your teeth. How can you put a price on your health and quality of life, being able to bite into an apple, chewing all kinds of food without pain from crumbly teeth, smiling with absolute confidence, being proud of your smile?
Often people who have had infections from their teeth say that they feel healthier, have more energy, their skin even looks healthier from getting rid of their teeth infections.

People who had dentures before this treatment can suddenly feel the roof of their mouths and can bite into an apple. They don't need to worry about their dentures falling out when they sneeze.
These are the aims of this treatment, and if done correctly and mother nature agrees, these are also the results.

The Process of Fitting All-On-4 Plus® Dental Implants
Your dentist can tell if you are a suitable candidate for All-On-4 Plus® implants after assessing your teeth and taking an X-ray. We'll then discuss the best treatment options for you, depending on the health of your remaining teeth and the condition of your jawbone.
After your consultation, and if you decide to go ahead with an All-On-4 Plus® implant, we'll take photographs and impressions of your teeth and mouth. We'll use these to develop a model for the perfect-looking and fitting prosthetic teeth and to determine the implant placement.
The implant procedure takes between one and three hours, depending on whether you need any existing teeth removed or preparation of your jawbone.
A specialist anesthetist will administer sedation or general anaesthetic for the implant surgery so that you won't feel any pain. After placing the implants into your jawbone, any wounds will be closed with dissolvable sutures, and caps will be placed on the implants temporarily.
After the surgery is complete, the dentist will take an impression of the implants to send to our laboratory. Then, while you recover from surgery, the lab will create templates that mimic the digital design of your new teeth. Finally, the dentist will use the teeth templates to model the final full arch after checking the fit and making adjustments.
In most cases, you can expect your permanent teeth to be ready and fitted within one to two days of surgery.
All-On-4 Plus® Implant Results: What to Expect
All-On-4 Plus® dental implants provide an excellent aesthetic result and restore full functionality to your mouth. They can be fitted to either the upper or lower jaw (or both), each of which requires only four titanium posts that the dentist will position in the jawbone through tiny incisions around your gums.
You will be given medication after your surgery to control pain, if you have any. You'll also receive antibiotics to prevent infections. Over the next few days, you may experience some pain, swelling and bruising of your gums and face, but this should subside within a week.
Because they're custom-made for your mouth and fitted within 24-48 hours of surgery, you'll be able to wear your new teeth straight away. In addition, All-On-4 Plus® implants can be made to look completely natural, so nobody will know they aren't your natural teeth.
Typically, you'll be able to eat and drink properly after one day of surgery. However, we advise consuming only soft foods for the first four months while the implants are undergoing a process of integration with the jawbone.
Just as with real teeth, you'll need to care for your new teeth by regularly brushing and flossing and visiting your dental practice for checkups.
The Benefits of All-On-4 Plus® Over Removable Dentures
All-On-4 Plus® dental implants are a popular choice for restoring functionality to your mouth.
While dentures are a cheap option for replacing teeth, they're significantly less secure in the mouth. Unlike All-On-4 Plus® implants, dentures can slip or become loose when talking or eating.
As implants are fixed in your mouth, you can enjoy eating foods that would be difficult to chew with dentures. For example, apples and corn on the cob are often too tough for people who wear dentures, but All-On-4 Plus® implants don't affect your ability to eat them.
Since the bridges attached to implants don't cover the palate like dentures, you'll be able to taste and enjoy your food fully. There's also much less irritation to your gums and the lining of your mouth.
Are payment options available for All On 4 Plus® dental implants?
We offer various payment options to make the implant procedure more affordable for our patients. The following finance options are available at most of our clinics to our Australian patients:

Contact Us Today to Find Out More About All On 4 Plus® Dental Implants
At All On 4 Clinic, we provide high-quality dental implants for our patients at affordable prices. So don't let your concerns about All-On-4 Plus® costs put you off from having a consultation to explore your options and potential of restoring your smile. We can talk you through the payment options available to you and help you choose a treatment plan that suits your needs.
Our friendly team is always happy to hear from you, so give us a call on 1300 255 664 or use our online booking form to make an appointment today.
We also recommend
As seen in